Obama's Kailua Beach Rental
You too can rent the same 5-bedroom Kailua beach-front house that Barack Obama and his family are renting over their 12-day vacation.
The house was originally built in 1934 for Harold K.L. Castle, the landowner who developed much of Kailua after World War II and renovated in 2005. The house is listed here at $2,500 – $3,500 per night for a maximum of 10 guests.
オバマ カイルアビーチ レンタル あなたも バラック オバマ氏と家族が12日以上に渡ってバケーションをしているカイルアビーチ沿いの家を借りる事ができます。 その家は第二次世界大戦後 カイルアの開発者キャスル氏が1934年に建てたもので2005年に改築したものだ。  ここでは最高10人までが泊まれて1泊2,500ドルから3,500ドルとでている。

Lighting triggers island-wide blackout
We were sitting in darkness last night as we experienced a loss of electricity. After a few minutes of stumbling around in the dark, we found a radio and discovered that the power outage was island-wide.  From our apartment, we could see the darkness extend in every direction, the only illumination came from automobiles caught in traffic.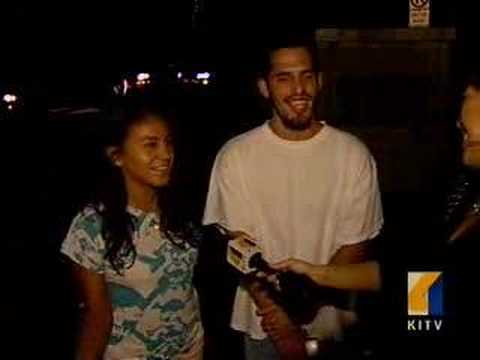 The blackout also made headlines nationally, thanks to president-elect Obama and his family vacationing here.
落雷で大規模停電
昨夜の停電で暗い中やっと見つけたラジオ、つけてわかったのはなんと島全体が停電になった事。 ラナイからの風景はどっちを見ても真っ黒。 唯一の光は連なる車からのライトでイルミネーションのようでした。
この大停電は次期大統領のオバマ氏と家族がハワイでバケーションを過ごしている事から全国ニュースになりました。
Countrywide to provide mortgage relief in Hawaii
About 2,400 Hawai'i homeowners who are behind in mortgage payments or are being threatened with foreclosure may gain some help from lender Countrywide Financial Corp. and its parent company, Bank of America.  Eligible owner occupants may be eligible to modify the terms of their Countrywide loans.  Relief may also come in the form of reduced interest rates, loan modifications, and reduction in principal balances.  Check out the Honolulu Advertiser article.